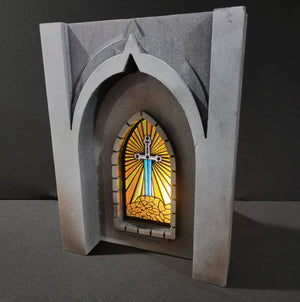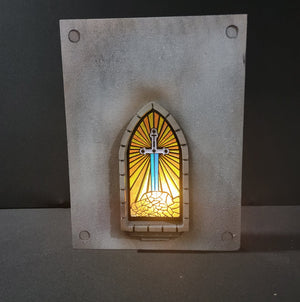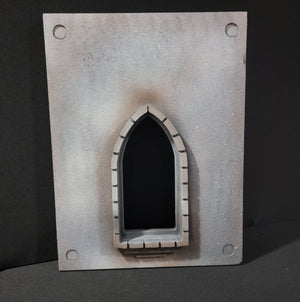 Special Combo Includes:
Edifice II - Sword Insert - Arch
Crashbox is proud to release "The Edifice II."  This piece is sized to fit perfectly with your Mythic Pieces collection and is also designed to work as a stand alone piece.  Each piece measures approx 12" wide and 15.75" tall.  The Edifice is compatible with the 1.5 Arch pieces, The center of the Edifice features a window frame .
The centerpiece of the Edifice is the Stained collection.  With the newest design "Sword and the Stone". This beautiful windows is precision cut and hand filled with colored resin.  Any simple lighting behind the windows brings them to life. 
We have designed the Edifice II to be as modular as the rest of the Mythic Pieces collection - the windows are interchangeable and fit snug into the custom cutout in the relief. Keep an eye out for more window options in the near future!
Constructed of XPS foam, MDF, Resin and acrylics.
All Crashbox items are hand finished and no two are the same. Paint variances will occur. Changes in design may occur in an effort to provide the best product.